WRC Rally Italia Sardegna
The 17th edition will be full of content, with the best from the past editions and some high-quality add-ons. The double location of Alghero – Olbia, the city-Super Special stage Olbia-Cabu Abbas, the comeback of the Tempio Pausania test and the validity for the Italian Championships. Exciting 308 kms are ahead!
The Rally Italia Sardegna 2020, event organized by Automobile Club d'Italia with the partnership of Regione Sardegna, will be an unprecedented spectacle. This is going to be edition 17 of the Italian round of the World Rally Championship that will get the best from its past editions but will also introduce some very interesting novelties.
As in the past four editions, the whole rally will take place in the north part of the island. The sixth round of the World Rally Championship will get underway from June 4th to 7th and will be valid for the WRC 2, WRC 3 and Junior WRC world championships and for the Italian Rally Championship, CIR Junior, CIR 2WD and Italian Gravel Trophy.
ALGHERO, OLBIA AND THE SUPER SPECIAL STAGE
The rally will unfold in 20 tests on gravel split in three days for a total of 308,63 km competitive. The biggest novelty is the comeback to Gallura. The start and opening super stage will take place in Olbia, while the eight tests of day one will include the Tempio Pausania stage that was last ran back in 2005. The location of Alghero has been confirmed for the seventh year. It will house service park in the touristic harbour, the "ramblas" and Piazzale della Pace. Press offices, race direction and headquarters of the event will be set up in the prestigious location of Lu Qualté. Drivers will go through the shakedown of Olmedo (3,86 km) on Thursday, June 4th, from 9.01. This will be similar to last year's shakedown with the start in the spectacular setting of the bauxite mine.
The start to the rally will be given in Olbia at 18.08 with the new Super Stage of Olbia-Cabu Abbas. This is going to be a mix test of 3,79 kms with the first and final 500 meters on tarmac. The start from the seafront of Escrivà de Balaguer will take the cars to the straight behind the Roman water system and to a spectacular jump in front of the fans. Several hairpins under the terrace reserved to the Goldpass owners will follow. Drivers will then go through the city center at the Brin pier, where the Media Zone will proceed the Park Ferme set up between the City Hall and Olbias Archeology Museum.
Day one will feature 121,78 km competitive and will start on Friday, June 5th, in Olbia. The eight tests (4 to be repeated twice) will be the Tempio Pausania (10,92 km), that is back after 15 years, Erula-Tula (22,41 km), Castelsardo (14,72 km) and Monte Baranta that has been extended to 12,84 km. The classic stage around Monte Acuto will follow on Saturday, June 6th. Seven tests will clock up 141,16 km competitive and will include the two passes on the Coiluna-Loelle (15,00 km), Monti di Alà (26,85 km) and Monte Lerno (28,03 km), while the special stage Ittiri Arena (1,40 km) will end the day. A total of 41,90 km competitve will be in the menu for Sunday. The four stages will be two passes on the Cala Flumini (14,06 km) and on the power stage Sassari-Argentiera (6,89 km), that will go live on TV worldwide in its second pass at 12.18. Only after this stage we will know for sure the name of the winner of the 17th Italian round of the World Rally Championship. The jump in the water of the Alghero harbour will be the traditional celebration for the winning team.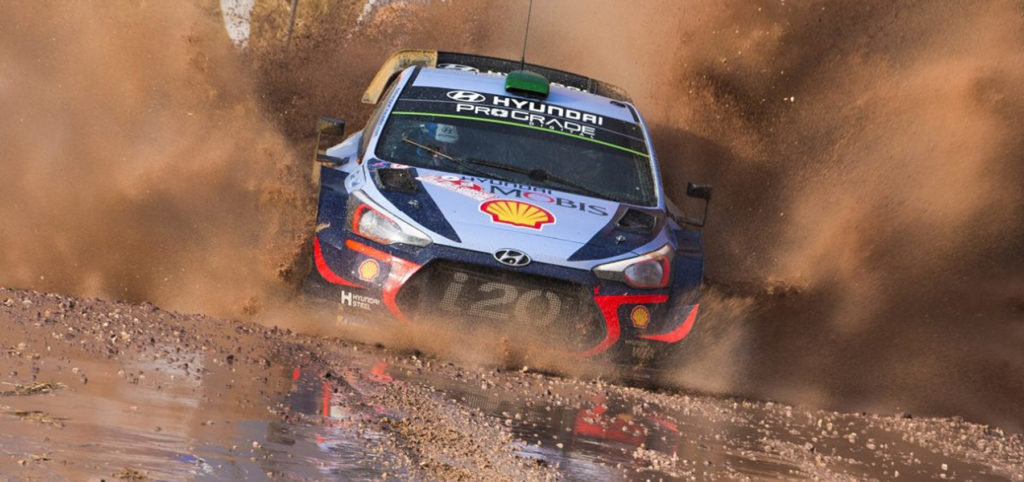 La 17esima sarà un'edizione carica di contenuti, con il meglio dal passato e alcune new entry di qualità. La doppia location tra Alghero ed Olbia, la Super Speciale cittadina Olbia-Cabu Abbas, il ritorno del tratto di Tempio Pausania e la conferma della validità per i Campionati Italiani. Saranno 308 km di emozioni.
Il Rally Italia Sardegna 2020, manifestazione organizzata dall'Automobile Club d'Italia con la partnership della Regione Sardegna, darà vita ad uno spettacolo senza precedenti. Sarà l'edizione numero 17 per la tappa italiana del World Rally Championship che terrà il meglio dal passato, ma porterà alla ribalta alcune novità di grande interesse.
Confermata la scelta delle ultime quattro edizioni di avere l'intera corsa raccolta nel nord dell'isola. La gara, sesta manche del campionato del mondo rally in programma dal 4 al 7 giugno, sarà valida per il mondiale WRC 2, WRC 3 e Junior WRC oltre alla validità tricolore per il Campionato Italiano Rally insieme al CIR Junior, al CIR Due Ruote Motrici e per il Campionato Italiano Rally Terra.
ALGHERO, OLBIA E LA SUPER SPECIALE
La corsa avrà un percorso composto da 20 prove speciali su sterrato suddivise in tre tappe per complessivi 308,63 km cronometrati. La novità più importante sarà il ritorno del mondiale in Gallura. Partenza e super speciale d'apertura saranno infatti ospitate ad Olbia, mentre la prima tappa composta da 8 speciali riproporrà la prova di Tempio Pausania che si era disputata l'ultima volta nel 2005. Per il settimo anno consecutivo è stata poi confermata la location di Alghero, con il parco assistenza allestito anche stavolta tra le banchine del porto turistico, le "ramblas" ed il Piazzale della Pace. Sala stampa, direzione di gara e quartier generale della manifestazione saranno ospitati anche sempre nella prestigiosa location di Lu Qualté. Giovedì 4 giugno alle ore 9.01 i piloti prenderanno il via dello shakedown ad Olmedo (3,86 km), in versione simile a quella dello scorso anno con partenza dalla spettacolare miniera di bauxite.
Poi la prima visione da non perdere: il via della corsa verrà dato in serata ad Olbia alle ore 18.08, con l'inedita Super Speciale di Olbia-Cabu Abbas. Un percorso misto di 3,79 chilometri complessivi, con i primi e gli ultimi 500 metri da percorrere su asfalto. Lo start dal lungomare lancerà le vetture verso il rettilineo, alle spalle dell'Acquedotto romano, che prevede un salto spettacolare al cospetto del pubblico. Quindi i piloti arriveranno in pieno centro città al molo Brin, dove la Media Zone precederà l'ingresso nel Parco Chiuso, allestito tra il Municipio e il Museo Archeologico di Olbia.
La prima tappa lunga in totale 121,78 km cronometrati, partirà la mattina di venerdì 5 giugno da Olbia con un percorso che prevede 8 crono (4 ripetuti due volte), quelli di Tempio Pausania (10,92 km) che come detto ritorna dopo ben 15 anni, Erula-Tula (22,41 km), Castelsardo (14,72 km) e Monte Baranta allungata a 12,84 km. Sabato 6 giugno è poi in programma la classica tappa ricavata nel Monte Acuto composta da sette speciali per complessivi 141,16 km cronometrati con due passaggi a Coiluna-Loelle (15,00 km), Monti di Alà (26,85 km) e Monte Lerno (28,03 km) ed a fine giornata la speciale di Ittiri Arena (1,40 km). Domenica 7 giugno sono previsti in totale 41,90 km cronometrati suddivisi in quattro prove speciali, vale a dire i due passaggi a Cala Flumini (14,06 km) e nella power stage di Sassari-Argentiera (6,89 km), che nel secondo passaggio delle ore 12.18 andrà in onda in diretta televisiva in tutto il mondo. Solo allora sapremo con certezza il nome del vincitore di questa 17a edizione dell'appuntamento tricolore del mondiale rally, vincitore che poi come da tradizione si tufferà insieme a tutto il team nelle acque del porto di Alghero.