Thailand is well positioned geographically for ASEAN and will over time provide a base to have connectivity by land, sea, and air.
The Thailand 4.0 initiative is a strategy that spans across 20 years encompassing key industries such as aviation, electronics, biochemical, and digital. Dovetailing this initiative is the Thailand Eastern Economic Zone, which spans across 13,200km² at three provinces in the eastern part of Thailand and will provide an ASEAN base where you'll have connectivity by land, sea, and air.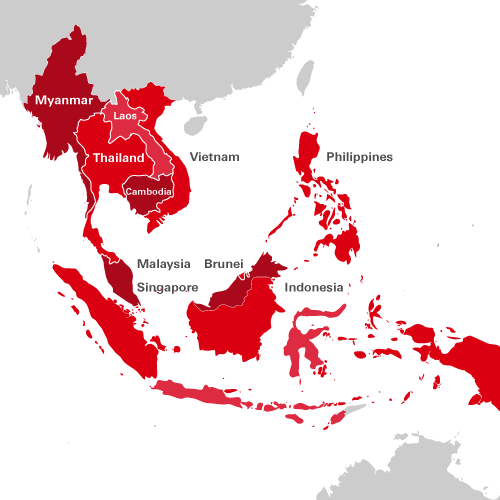 What is ASEAN?
At the centre of the Asian region is ASEAN – the Association of Southeast Asian Nations, formed in 1967. The association is made up of ten nations: Singapore, Malaysia, Vietnam, Thailand, Philippines, Indonesia, Brunei, Lao, Myanmar and Cambodia. During ASEAN's original inception, economic growth, social progress, cultural development and regional peace were cemented as the core principles by the founding nations and still stand strong today.
They have successfully weathered both the Asian financial crisis of 1997 and the global economic crisis of 2008-09, to make it one of the world's top 5 economies. ASEAN's countries equate to a total of 642 million people, accounting for over 8% of the world's population with a GDP of US$2.76tn growing at a rate of 4.7% – this is significantly higher than any other global region and translates to a per capita metric of US$4,308
Business benefits & opportunities
Now more than ever, companies from all over the world are looking to ASEAN to expand their operations from within the bloc around Asia and globally.
SW6D Ambassadors

the real estate market in the ASEAN area and therefore in Thailand, in Phuket in particular represents an interesting form of investment in the medium term (4/5 years). There are some opportunities with annuities guaranteed on average at 7/8%.
Whether you are a large company or an investor, contact us, our international staff will help you choose the investment opportunity that is more tailored to your needs.